Advanced Implant Dentistry
Dental implants are a form of cosmetic and prosthetic dentistry in which one or more missing teeth are replaced with artificial ones. A dental implant restoration is commonly composed of a titanium material screw and a crown. By placing an artificial tooth and root, bone loss in the jaw can be stopped or even prevented. Of all the restorative options available, implants have proven to be the most effective both functionally and esthetically.
Dental Implant History
Dental Implants were developed in 1952, in a laboratory in the university town of Lund, Sweden by Professor Per-Ingvar Brånemark, who had a "lucky" accident during bone grafting research. Much to his dismay, Dr. Brånemark discovered that it was impossible to recover any of the bone-anchored titanium microscopes he was using. The titanium plate had apparently bonded irreversibly to living bone tissue, an observation which contradicted all scientific theory at the time.
Dr. Brånemark went on to demonstrate that under carefully controlled conditions, titanium could be structurally integrated into living bone with a very high degree of predictability, and without long-term soft tissue inflammation or rejection. Brånemark coined the name "osseointegration," meaning the attachment of healthy bone to a titanium implant.
Thus dental implants were born and the first application of dental osseointegration was the implantation of new titanium roots in an edentulous (toothless) patient in 1965. Dental implants have shown a 90 percent success rate and long-term studies continue to show improving success.
Consultation and Planning
If you are considering dental implants, then schedule a consultation with us. During the cosmetic/implant consultation process, we will take a picture of your current smile and, using the services of Virtual Smiles®, we will show you what your new smile will look like. Virtual Smiles® creates professional digital simulations that to show a realistic representation of how a cosmetic procedure is likely to turn out. It is comforting to know what the end result will look like while going through the consultation and planning process.
Along with your virtual smile, we will also thoroughly examine your teeth, gum tissue, and bone structure, take X-rays, and order a CT scan to ensure you are a good candidate for implants. Next we will design a treatment plan tailored to your specific needs. This plan may involve a series of procedures including tissue and bone grafts in order to create the smile you desire.
The Basics
Dental implants appear natural in part because of osseointegration. An initial hole is drilled and then slowly widened. A titanium implant screw is placed in the hole, a protective cover screw is placed on top, and surrounding gum tissue is secured. Once healed, an abutment and temporary crown are placed to further natural gum growth. Soon after, the procedure is completed with the placement of a permanent and natural looking crown.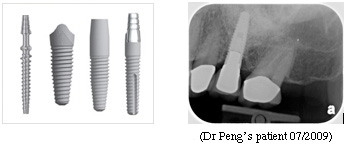 Recovery and Follow-up
Treatment and recovery may take from three to nine months depending on your individual case and the course of treatment. Success depends greatly on good oral hygiene habits – regular brushing and flossing – to avoid infection. Swelling and discomfort, if they occur, are usually minimal. Follow-up visits and cleanings will be scheduled to remove stitches and to monitor your oral health.
What are the advantages?
There are many advantages to dental implants, including:
Improved appearance. Dental implants look and feel like your own teeth. And because they are designed to fuse with bone, they become permanent.

Improved speech. With poor-fitting dentures, the teeth can slip within the mouth causing you to mumble or slur your words. Dental implants allow you to speak without the worry that your teeth might slip.

Improved comfort. Because they become part of you, implants eliminate the discomfort of removable dentures.

Easier eating. Sliding dentures can make chewing difficult. Dental implants function like your own teeth, allowing you to eat your favorite foods with confidence and without pain.

Improved self-esteem. Dental implants can give you back your smile and help you feel better about yourself.

Improved oral health. Dental implants don't require reducing other teeth, as a tooth-supported bridge does. Because nearby teeth are not altered to support the implant, more of your own teeth are left intact, improving your long-term oral health. Individual implants also allow easier access between teeth, improving oral hygiene.

Durability. Implants are very durable and will last many years. With good care, many implants last a lifetime.

Convenience. Removable dentures are just that; removable. Dental implants eliminate the embarrassing inconvenience of removing your dentures, as well as the need for messy adhesives to keep your dentures in place.

Contact us today to schedule your cosmetic and implant consultation and take that step toward your new smile.
Click here to view before and after pictures of some of our patients.